Ironhorse Vetcare staff include board-certified specialists in surgery, internal medicine and 24 hour emergency services. Our experienced technicians and friendly support staff ensure that your pet receives the best care and that you are kept up to date on their care and stay with us.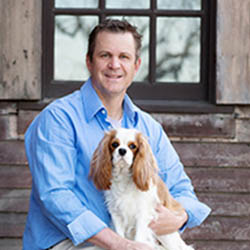 Dr. John Haburjak graduated from UC Davis Veterinary School in 1993. He practiced for 5 years in and around the SF Bay Area before completing a combined surgical residency program in San Diego and the University of Illinois.
Dr. Haburjak is a Diplomate of the American College of Veterinary Surgeons his clinical surgical interests include surgical oncologic procedures of the face, head and neck, corrective orthopedic procedures, and disorders of the canine stifle. Finally, he has dedicated most of his post-graduate emphasis on minimally invasive procedures including: laparoscopy, thoracoscopy and interventional radiology (urethral and tracheal stenting).
Dr. Haburjak's hobbies include singles tennis, Oakland A's baseball, discovering the Tahoe basin with his kids and cooking (not to mention eating, too!). He shares his life with his wife, Aimee (a veterinarian pathologist), daughters Eva & Emery and sons Ian & Isaac – along with Lady Addison (bubble-headed Japanese spaniel), Poppy (a Cavalier King Charles Spaniel with a freckled nose!), Pixie (mutant Chihuahua) – some Guinea Pigs and a Cat named Ginger Cookie.
BVetMed (Hons), MS, Diplomate ACVS
Dr. Wignall comes from a family of veterinarians in the United Kingdom, and after pursuing veterinary school and a rotating internship at the Royal Veterinary College in London, he returned home for a year in rural mixed animal practice. Adventure beckoned, and he completed his 3 year surgical residency at Louisiana State University (geaux tigers 1) where he found a southern girl, a love for the New Orleans Saints and a terrier called Maverick. He then worked in Southern California for 4 years where the family expanded to add two more terriers, Biffy and Ziggy. His hobbies include snowboarding, soccer, hiking and spending time with his veterinarian partner and young son.
His professional interests cover all aspects of orthopedics, soft tissue, and neurosurgery, with a particular emphasis on the upper airway and minimally surgical techniques (Arthroscopy, Laparoscopy, and Thoracoscopy) and the surgical treatment of fractures and cruciate disease with TPLO.
BSc (Hons), BVetMed, Diplomate ACVS
Dr. Andrew Grange is a Diplomate of the American College of Veterinary Surgeons, and Chief of Staff of OakVet Animal Specialty Hospital. He attended University College London where he received his bachelor's degree in orthopedic science, and then graduated in 2008 from the Royal Veterinary College in London with a degree in veterinary medicine. Following graduation he completed a rotating internship in Southern California, and a residency in small animal surgery at Angell Animal Medical Center in Boston, MA. 
His professional interests include the application of minimally invasive surgical techniques (Arthroscopy, Laparoscopy, and Thoracoscopy) in the management of soft tissue and orthopedic disease, and the surgical treatment of cruciate disease, fractures, and Total Hip Replacement. 
Dr. Grange's personal interests include skiing, cycling, ice hockey, and spending time with his wife, Allison (also a veterinarian), children Amelia and Ethan, their dog, Abby, and 5 cats. 
Dr. Kim received her Doctor of Veterinary Medicine degree at UC Davis School of Veterinary Medicine in 2006. She went on to pursue a 1-year rotating internship at Veterinary Specialty Hospital of San Diego. She returned to UC Davis to complete a 3-year residency in small animal internal medicine in 2010. Her residency research project investigating diagnostic modalities in cats with Feline Interstitial Cystitis, was given the House Officer Small Animal Research Award. Her mission is to nurture the human-animal bond by providing the next step in veterinary care.
Dr. Kim originally hails from Sacramento. She lives with her husband, two daughters, a rescue dog named Penny, and an assortment of snails, caterpillars, and insects captured in jars by the kids. She enjoys cooking, sewing, and playing the piano.
DVM, Practice Limited to Surgery
Dr. Perez was born in Southern CA, and was raised in Phoenix, AZ. He attended Arizona State University where he received his Bachelor Degrees in Kinesiology and Biology. He initially intended to pursue a career in human medicine, but found his calling in the veterinary field. After working as a veterinary technician for a few years in San Diego, he left for the islands of St. Kitts and Nevis to pursue his veterinary education at Ross University School of Veterinary Medicine.
After his academic training was completed, he finished his clinical training at the University of Tennessee (UT). During his time at UT, he was involved with their rehabilitation service, and became certified as a canine rehabilitation Practitioner (CCRP). Following a year in Tennessee, he moved to the east bay area where he completed a one-year rotating internship at Ironhorse Vetcare with emphasis on surgery, emergency and internal medicine. It was here where he would meet his future fiancée, and became a proud owner of a well-behaved German Shepherd (Zeus).
His travels would not end there, as he traveled to Malvern, PA to complete a three-year surgical residency at Hope Veterinary Specialist. There his family would expand as he and his fiancée rescued a senior pug (Frank). He has returned to the East Bay to be reunited with Ironhorse Vetcare as a surgeon. His professional interests cover all aspects of orthopedics, soft tissue, and neurosurgery, with particular interest in wound management, surgical oncology, and cruciate disease. Dr. Perez's personal interests include snowboarding, basketball, football, and spending time with his Fiancée, Dani, their two dogs, and his cat (Captain Kirk).
Dr. Rebecca Rader grew up in Illinois and graduated from University of Illinois Veterinary School in 2006. She then completed a 1 year general, rotating internship at Bay Area Veterinary Specialists in San Leandro. Her residency program in emergency and critical care took her to Ocean State Veterinary Specialists in Rhode Island for 4 years, but her love for the Bay Area brought her back to California in 2011 after the completion of her residency.

Dr. Rader is a Diplomate of the American College of Veterinary Emergency and Critical Care. Her professional interests include trauma, geriatric medicine and pain management. Outside of work, she enjoys traveling, live music, and spending time with her friends and family, which includes two dogs named Cardi Chi and Chacho. They have their own stroller and accompany her almost everywhere.
Dr. Stepita grew up in Maryland, but now calls Northern California home. She received her DVM from the University of Tennessee in 2006. After completing an internship and working in general practice in Arizona she entered into the Clinical Veterinary Behavior Residency Program at the University of California-Davis, becoming a Board-Certified Veterinary Behaviorist in 2011. She spends most of her time in her San Francisco Bay Area-based practice, Veterinary Behavior Specialists, helping pet owners improve their pet's behavior problems, and finds working with dedicated pet owners to be highly rewarding. Dr. Stepita's research involves the frequency of parvovirus in puppies attending puppy socialization classes. Results of this study showed that vaccinated puppies attending these classes were no more likely to be diagnosed with parvovirus than those not attending these classes. She has authored chapters on canine aggression, feline anxiety, feline house soiling, and canine and feline mourning in veterinary texts. Dr. Stepita is also a local and national speaker. Her areas of interest include canine and feline anxiety and aggression, the human-animal bond, and animal welfare. She shares her life with her husband Chris and their dogs (Chewy and Snoopy), cats (Maddie, Cali, and Tarzan), and the occasional foster dog. Please visit Dr. Stepita's website vetbehaviorspecialists.com for more information or to schedule an appointment.
DVM, Diplomate AVDC, EVDC
Dr. Niemiec is a 1994 graduate of the University of California, Davis School of Veterinary Medicine. Dr. Niemiec is a Board Certified Specialist in Veterinary Dentistry of both the American and European Veterinary Dental Colleges. In addition he is a Fellow in the Academy of Veterinary Dentistry. He is one of fewer than 10 veterinarians worldwide to hold all three of these certificates. Read more about what Dr. Niemiec brings to veterinary dental care.
Dr. Edie Blair grew up in Washington, DC and moved to California for veterinary school.  She received her Doctor of Veterinary Medicine degree from the University of California, Davis.  While in school she was able to explore a variety of interests including equine medicine, shelter medicine, and emergency medicine.
During her time in school she fell in love with California and made the move to the Bay Area.  She started working in emergency medicine after graduating from vet school and joined the IronHorse team early in 2020.  Her professional interests include emergency medicine, pain control, and infectious disease.
Outside of the clinic she enjoys running, mountain biking, and rock climbing.  She hopes to explore all the outdoor activities California has to offer and is working her way through all the state parks.  She has a squat pittie named Tyson who enjoys napping, snacks, and the occasional (short) hike.
Dr. Wayne Tsang was born and raised in Hong Kong. He found himself in love with the human-animal bond from his childhood and wanted to be their voice. He started playing table tennis at the age of 7 and hoped to become a professional table tennis player. However, at the age of 14 he decided to end his table tennis career and move to the United States to pursue his lifelong dream of becoming a veterinarian. He has become familiar with the Bay Area after working as a veterinary technician in local emergency hospitals for about 10 years including his time off during veterinary school.
Dr. Tsang earned his Bachelor of Science Degree in Biochemistry from UC Davis. After graduation, he continued to pursue a Master in Business Administration at UC Davis in hope to own his practice one day. He graduated from veterinary school at Western University of Health Science in California. While in veterinary school, even though he enjoyed the fast-paced environment in emergency medicine, he discovered his professional interest in both soft tissue and orthopedic small animal surgery. He is currently finishing up a Masters in Public Health through the University of Minnesota and Veterinary Acupuncture Certification through Chi Institute in Florida. After graduating from veterinary school, he decided to return to the Bay Area to join Ironhorse Vetcare.
Dr. Tsang's personal interests include table tennis, weightlifting, hiking, snowboarding, and recently found his new interest as an amateur magician during veterinary school.
Fun fact: Dr. Tsang has been to Disneyland over 500 times during veterinary school. 
I grew up in a small town in upstate New York. I completed my undergraduate degree in Biology with a specialization in pre-vet at Delaware Valley university. I then traveled to Grenada to attend St. George's University and completed my clinical year at Texas A&M where my passion for surgery and emergency medicine grew. 
I moved out to California to be with my boyfriend who is working at a startup company whose goal is to convert seaweed into a plastic bag alternative. Together we have four crazy kids, 1 dog and three cats! In my spare time I love to hike and explore, refurbish older furniture and travel as much as I can. 
I look forward to meeting you and taking care of your fur babies! 
Dr Sarah Thompson attended the University of California, Davis after spending much of her life before college living overseas. She earned her Bachelor of Arts degree in Biology from UC Davis, and then attended the UC Davis School of Veterinary Medicine, earning her Doctor of Veterinary Medicine degree in 2000.
Dr Thompson has a strong interest in emergency medicine and critical care, and has practiced emergency medicine in the Bay Area for the past 15 years. What she loves most about practicing veterinary medicine is that every day is a new experience. She enjoys the challenges and excitement of emergency medicine, and working as part of a team to improve the health and quality of life for pets and their families. 
When not in the hospital, Dr. Thompson enjoys spending time with her family and pets – a retired guide dog named Rhubarb, her golden retriever Waldo, and two cats. She loves travelling and scuba diving, and is always excited to head out on a new adventure.
Dr. Julie Damron has both her undergraduate and graduate degree from UC Davis.  She returned to UC Davis School of Veterinary Medicine more recently for a fellowship in Emergency Medicine.   She worked at a very busy day clinic in San Joaquin County for many years.  The past 7 years she found her true passion in emergency medicine; here she could help both animals and clients in true crisis. 
Community service has always been very important to her.  She is a past president of a Lion's club, and a past Secretary and event coordinator for Rotary.  She has served on many boards including San Joaquin United Way, San Joaquin Emergency Food Bank, Mickie Grove Zoo; and have been a Toys 4 Tot's Ambassador.  She helped establish the San Joaquin Animal Shelter surgical facility; and volunteered there doing surgeries every other Sunday for 6 years.  She also established a free vaccine clinic for the pets of the homeless, wrote a pet care newspaper column in 2 different newspapers for a combination of over 12 years, and taught pet first aid classes at different venues.  Currently she is a board member for Northern California Weimaraner Rescue.
In her time off she enjoys spending time with her soul mate Rich.  When they are not swimming at home or walking along the local river trail, they are taking road trips all over with their Weimaraner Indigo.  They love hiking, exploring the coast, going to beaches, zoos, restaurants, theater, and museums.
In the past 7 years she's worked at multiple ER clinics all over Northern California.  Each transition has been to improve the level of treatment that she can provide for her patients.  The care and services that IronHorse provides is phenomenal.  She is so excited and honored to be a member of this team!
Dr. Janice Cain obtained her DVM at UC Davis, and after an internship, returned to Davis for a residency in small animal internal medicine. She completed board-certification and quickly established herself as a busy internist in the Bay Area. During this time, Dr. Cain developed a sub-specialty in canine reproduction and became well-known for her expertise in this niche. Due to love of research and educating, Dr. Cain has lectured at major veterinary conferences world-wide and has published numerous scientific articles on canine reproduction topics. She is currently co-authoring chapters for two veterinary textbooks on topics of neonatal emergencies and Cesarean-sections. Dr. Cain has been involved in teaching small animal reproduction to veterinary students at UC Davis and always enjoys interacting with students. She is also a consultant on topics of reproduction and pediatrics for VIN, a veterinary online advisory service. Dr. Cain is excited to join our team at Ironhorse VetCare and is honored to head our canine reproduction center.
Practice Manager:  
Breann Kvernes
Client Relations and Referral Coordinator:
Renee McComb
Lauren Acuna, RVT
Leiana Alexander
Ana Alves
Arianna Anderson
Ali Arnold
Brianna Barajas
Gina N Badura-Buccellato, RVT
Melanie Blom, RVT
Catherine Cerf-Arriola
Misty Christian, RVT
Daniella Cincera
Amanda Dennis, RVT
Anna Rose Denza
Kaylei Chappel, RVT
Kaylee Griffith
Lori Heath, RVT
Kim Kendig, RVT
Whitney Larson
Nicole Westermann
Jaime Walker 
Denise Long, RVT
Michael Ludlow
Gilia Lyon
Allan Molina, RVT
Sarah Pereira, RVT
Cindy Pierce
Claire Longman
Danielle Perez, RVT
Victoria Reyna
Kayla Rutherford, RVT
Elizabeth Saccullo, RVT
Shelby Salinas
Elizabeth Schisler, RVT
Alyssa Tao
Elianna Barajas-Castro, RVT
Gia Martin
Isabel Marr
Yenifer Maciel